It has come to my attention that my mother has been speaking on my behalf when it comes to "our" opinions on the literature we read. I've read some of these supposedly "joint" book reviews, and I must say that I threw up a little in my mouth. Granted, I do that several times an hour all day long, but this was definitely out of disgust. She may glamour you with her charming anecdotes and frilly adjectives, but I am here to set the record straight. Yes, some of those books are worth reading. And some are part of a larger conspiracy to brainwash babies.
Here is the real scoop.
The Peanut Gallery Librarian
* The book titles below contain links to my mother's online reviews so that you may compare her version of reality with...reality.*
Image borrowed from
http://www.babylit.com/shop-books/shop-books-prideandprejudice/
Do not be fooled by the fancy title and nod to actual literature. This is a math book, people. No matter what my mother does to hide that fact--reading it in a British accent, elaborating on the life of Lizzy Bennet, commenting on the pretty dresses--nothing changes the fact that this is a covert publishing experiment to get you to count.
So here is a little math for you: page 8 tastes better than page 7.
Image borrowed from
http://www.barnesandnoble.com/w/olivia-and-the-fairy-princesses-ian-falconer/1108614433?ean=9781442450271
This is the story of a little piglet named Olivia who is trying to tell her mother something very important as she gets ready for bed, and her mother just wants her to go to sleep so she can check Facebook. If my peers were following the dictates of some fascist cult leader with a penchant for pink, I certainly hope my mother would listen to my warnings. However, seeing how I daily find myself competing with the iPad for attention, the outlook is bleak.
I like Olivia's personality very much. The moral of this story is to ask questions related to a single thread of conversation over and over and over until you wear down your opponent (aka your mom).
I like the illustrations, and this is definitely the only book I own that uses the phrase "corporate malfeasance." Kudos to Falconer for having faith in the intelligence of his audience. By which I mean me.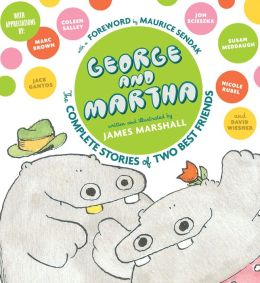 Image borrowed from http://www.barnesandnoble.com/w/george-and-martha-james-marshall/1100470105?ean=9780618891955
This is a collection of stories about two hippos struggling with their weight. Throughout all of their ups, downs, and addictions to sweets, cigars, and pranks, they are also very supportive of one another, which makes for an excellent side story.
The moral of all of these stories is to watch your back in case your best friend does something rotten. And always be ready to get him back. Revenge is apparently funny.
Sometimes I need to remind him who is boss, and I am the fork to his meatball.
So there you have it, folks. The
real
reviews. As the saying goes, if you want a job done right, you have to do it yourself.
As if I don't have enough on my plate these days.
If you have any additional insights on these books or other book recommendations, you may write me. Don't bother sharing anything with my mother. Apparently she will just say whatever she wants and then give you half of the credit, whether or not you want it.